Customer Reviews
11/27/2019
Emma S.
Canada
I recommend this product
Great look!
I bought these for my two girls. Fast delivery and amazing look! We travel a lot and it is hard to find great polarized sunglasses for kids to protect their eyes. I hope the lenses stand up to all the adventures I hope to have with them.
12/02/2019
Wildwood Eyewear Canada
Thanks for the awesome review and fantastic photos Emma! Enjoy your adventures!
SG
08/21/2019
Sue G.
Canada
Good quality and they do
Good quality and they do actually float my grand daughter dropped her sunglasses in the water Thanks
08/18/2019
Carri-Lynn W.
Canada
08/11/2019
Nadell F.
Canada
My son loves them
I bought these for my son and he loves everything about them. So do I. I love how they look, but I also love that they're made of recycled plastic and wood. I'm sure this won't be the last pair I purchase.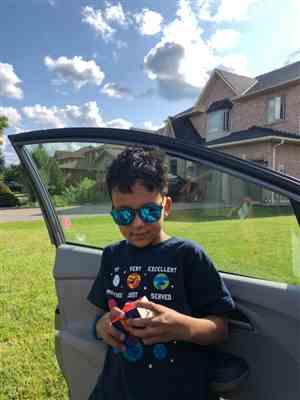 08/12/2019
Wildwood Eyewear Canada
Thank you so much for the great review and photo Nadell. Your son looks awesome!
Eco-friendly materials
Our sunglasses are made from sustainably sourced woods and recycled plastics. You'll have way more 'fun in the sun' knowing you're helping to keep plastics out of landfill and you've got natural fibres against your skin.
Every purchase gives back
We're a proud member of 1% for the Planet - the world's leading environmental non-profit charity. We pledge a percentage of all gross sales to their registered partners who do an amazing job helping to keep our planet awesome.
Free shipping and returns
Enjoy free ground shipping across Canada and the US on all sunglasses models.
Returns are free too if you pay for your order by PayPal.
Canadian customer service
Wildwood Eyewear is based in Vancouver, BC, Canada. We're very polite (and friendly) and if you encounter any kind of issue you'll find our customer service is as smooth as maple syrup!
Clear view, clear conscience
Enjoy your adventures in the sun knowing you're wearing a pair of sustainable sunglasses.